Dose rate alarm lamp GRAETZ GWL10m
The battery-operated gamma radiation warning light GRAETZ GWL 10m is used to determine cordon areas and for room monitoring. Exceeding one of the four adjustable warning thresholds is acknowledged visually with a red flashing light and acoustically with a very loud alarm tone. The GRAETZ GWL10m gamma radiation warning light is available with an optional motion detector, which triggers the acoustic alarm when a person approaches the danger zone.
Dose rate alarm lamp GRAETZ GWL10m
Robust and compact aluminum housing
Four adjustable dose rate warning thresholds
Visual alarm (red flashing light) and very loud audible alarm tone
Dust and splash water protection (protection class IP54)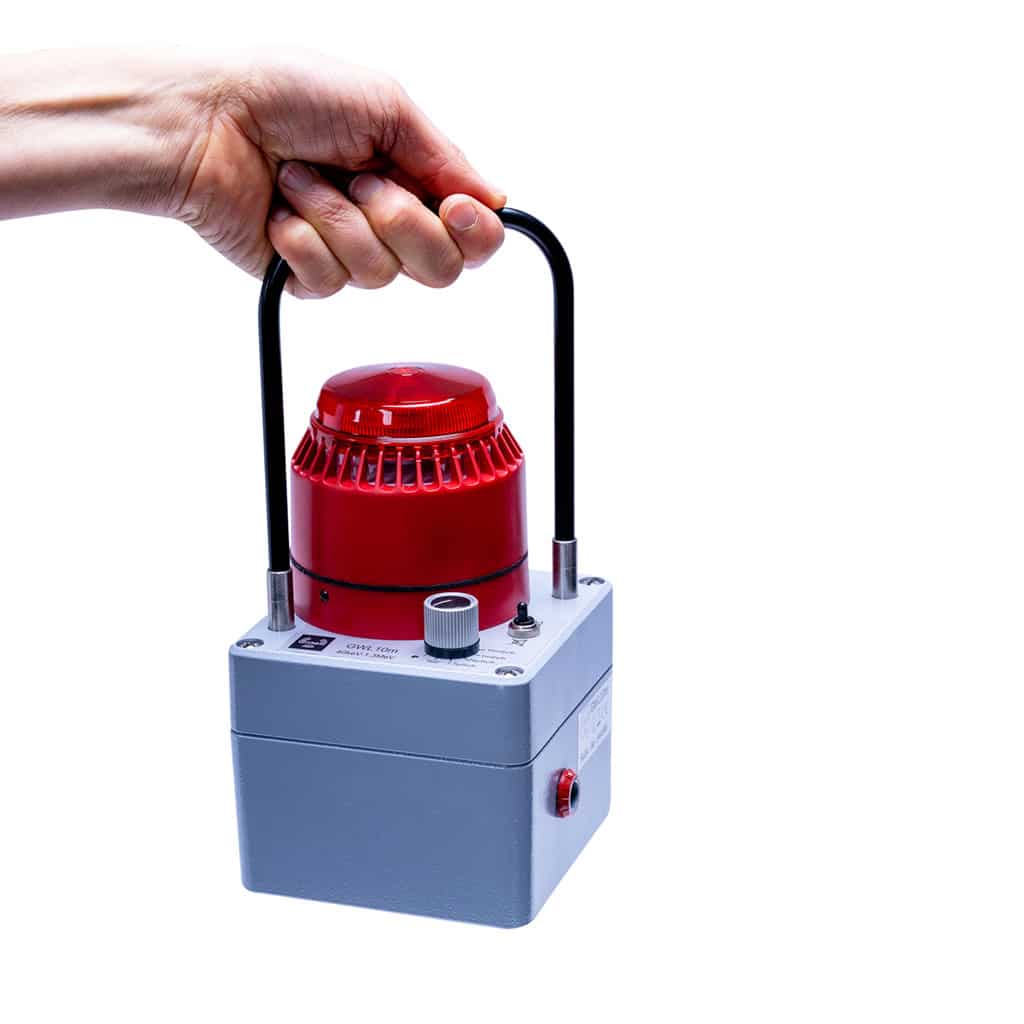 Battery operated dose rate warning device for the detection of γ- and X-radiation in the measurand Ḣ*(10) ambient dose equivalent rate.
The gamma warning light is preferably used to determine shut-off areas when a predefined dose rate is reached
The device has four warning thresholds that trigger visual and audible alarms when exceeded
The acoustic alarm can be switched off
Designed for rugged use
The housing is splashproof
Operating time with fully charged battery in ambient radiation approx. 48 hours without warnings
Optional:
Stable tripod
Motion detector for triggering the acoustic warning when a person approaches the hazardous area in the case of increased radiation
The scope of delivery includes a charger for recharging the built-in battery
Measuring range
Dose rate

1 µSv/h ≤ Ḣ*(10) ≤ 80 mSv/h
Energy sector
40 keV – 1.3 MeV
Dose rate warning thresholds

7.5 µSv/h
25 µSv/h
1 mSv/h
10 mSv/h

Dimensions
approx. 120 × 120 × 250 mm
Weight (incl. battery)
approx. 2300 g
Protection class
IP65 (Protected against splashing water)
For detailed technical data, please refer to our product data sheet for this article. Click here to download.
GWL10m
Item no. 5641 0409
GWL10m – with motion detector when entering the hazardous area
Item no. 5641 0436
GWL10m-2.5 – sensitive variant with lowest warning threshold 2.5µSv/h
Item no. 5641 0698

With floating relay output
Item no. 5641 xxxx
With tripod (3-legged)
Item no. 5641 0415-0
Dose rate alarm lamp GRAETZ GWL10m
Dose rate alarm lamp GRAETZ GWL10m
Technical data sheet
Download the technical data sheet for this product in PDF format now.
Dose rate warning device for determining and setting up cut-off areas when detecting a given local dose rate of gamma and X-ray radiation.
Compact and robust dose rate warning device with four preset warning thresholds and visual and audible alarm.
Robust and compact dose rate warning device for personal radiation protection when handling ionizing radiation.
Send us your non-binding inquiry for this product:
Dose rate alarm lamp GRAETZ GWL10m
We will be happy to send you an offer or provide you with information on where you can purchase our products in specialized stores.